Our Story
A century-old local favorite
Idaho Springs History
Remembering the past
The Pikes Peak Gold Rush, later known as the "Colorado Gold Rush" began in the summer of 1858 and sent hundreds of miners to the area in 1859 to be historically known as the "Fifty-Niners." In January of 1859, George A. Jackson discovered gold at the convergence of Chicago and Clear Creek, which is presently Idaho Springs. That same year, 1959, Idaho Springs was founded.
The Club Hotel continues its rich and interesting history that proceeded construction in 1882 by Henry & Sophia Wilson.
The original home was a two-story house, containing two parlors, a dining room, and five bedrooms on the second floor. A kitchen was built separately near the alley. The verandah along Colorado Blvd and 16th Ave was also a part of the original structure. After ten years of living in the house, the Wilsons rented the establishment to the Idaho Springs Club, a gentlemen's club ran by Denver businessmen.
Over the years, the Club Hotel went through many changes, milestones, and names.
The Wilson's eventually sold the property in 1895 and the property became a hotel. The first telephone in Idaho Springs was installed at the Club Hotel in 1904. During the fall of 1918, the Club Hotel was setup as a hospital for those affected by the Spanish Influenza. The first of two fires at the Club Hotel occurred in September 1921, burning the old dining room and adjoining rooms. A second fire in November of 1921 occurred during the hotel's off season, destroying most of the second floor. In 1927, the log-constructed dining room was added along 16th Street. The stone fireplace in the corner of the addition became a focal point of Idaho Springs traditions.
In 1943, the longest termed owners purchased the hotel and renamed it Hansons Lodge.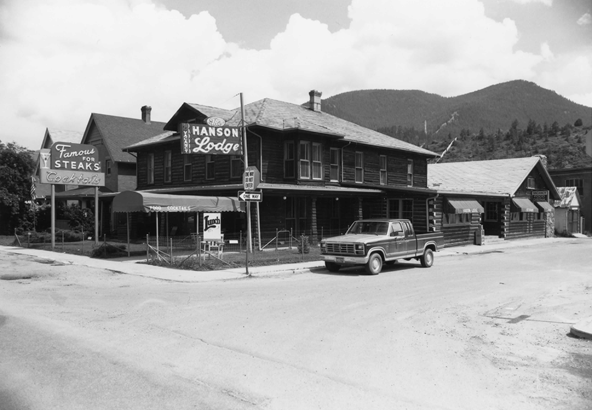 Many locals can speak to memories and delicious steaks served at the establishment during the almost forty years the Hansons owned the hotel and restaurant. In the forty years since the Hanson's ownership, the property has served many purposes: a restaurant, a cocktail lounge, a bed and breakfast, a half-way home, and now a modern Victorian guest house.
During the spring of 2021, renovations began to revive the property's original identity as the Club Hotel.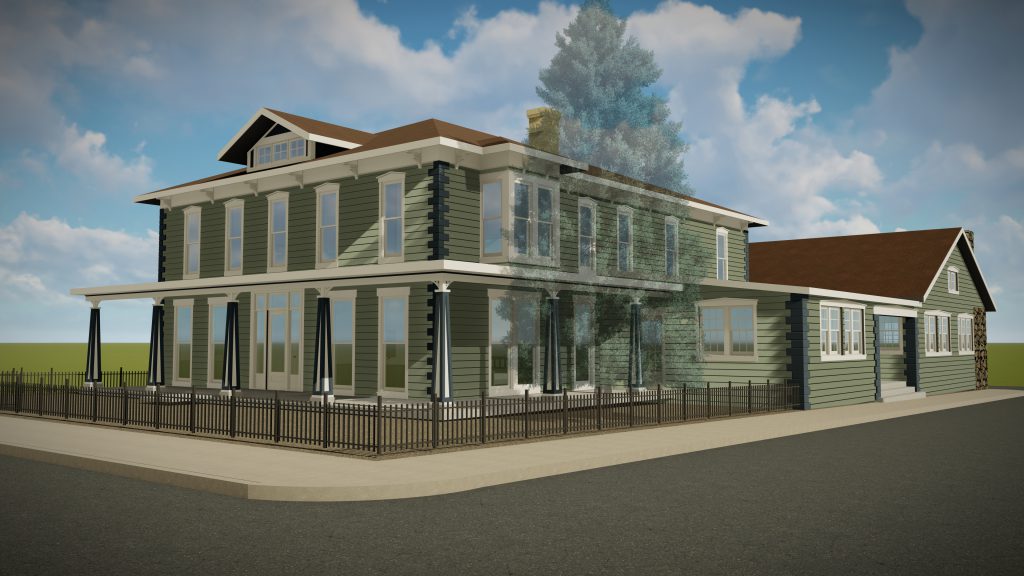 Most of the interior walls will be removed to make way for 11 cozy guest rooms. New plumbing, electrical, and heating will be run throughout the hotel. The 1927 dining room addition will be transformed into a meeting hall. The verandah and yard will be repaired to offer a garden retreat for the guests of the Club Hotel. The exterior will be refurbished to its early 1900s charm. Although this marks a new period in the history of the Club Hotel, the object isn't change but restoration to a bygone era with the added comforts of today.